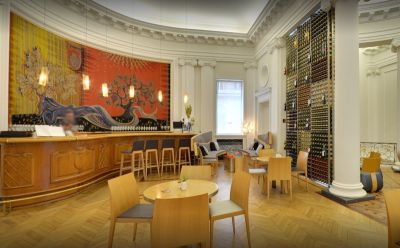 CIVB & Wine School
If you wish to deepen your knowledge on Bordeaux Wines, learn how to appreciate them for their distinctive qualities then the Interprofessional Council of Bordeaux Wine (CIVB) is the place to head.
The CIVB is situated opposite the Hotel de Normandie****, you could not find a closer hotel in Bordeaux.
This Bordeaux institution offer two main activities, a sumptuous wine bar with over thirty wines by the glass at reasonable prices and a wine school.
The wine school is open to all members of the public whatever your level, you can register online, choose the language of your choice, as well as the intensity of the course. They offer wine tasting lessons of a few hours to full weekend courses.
To participate in a lesson or course, the CIVB wine school has an online calendar where you can book online.
To find which workshops, wine tasting lessons and wine courses are available during your hotel stay in Bordeaux visit their online program : Online inscriptions and program