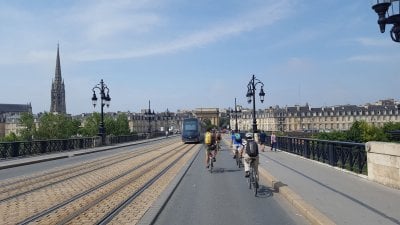 Discover Bordeaux on bicycles
Bordeauxis now the 4th largest city in the world for cyclists with more than 200 kilometers of cycle paths in its metropolitan area.
There are more than ten itineraries to visit Bordeaux, its metropolis and its surroundings by bike, at your own pace, to be discovered, among others on https://www.bordeaux-tourisme.com/
Go by bike from your hotel in downtown Bordeaux
It is very easy to find a self-service bicycle or to rent from your 4-star Normandy hotel in Bordeaux. Get on your bicycle and explore Bordeaux from the Place des Quinconces, which overlooks our establishment in the historic heart.
Go to the Grand Théâtre and take the time to appreciate this monument dating from 1780. Then go up the course of the stewardship and bypass the Place Gambetta to reach the Porte Dijeaux. Walk down the rue des remparts to find yourself on the Place Pey Berland and discover the majestic Saint André Cathedral.

After going around it, go up rue Duffour Dubergier and Cours Pasteur to Cours Victor Hugo, which you will take on your left to arrive, after a few meters, on rue Saint James and its Grosse Cloche. Walk down this street to the course of Alsace and Lorraine, which you will take by turning right and then immediately fork to the left on the Place du Palais to discover the Porte Cailhau.

Then go down to the quays to reach the Place de la Bourse and the reflecting pool. And finally, continue on the Quai du Maréchal Lyautey to find the Place des Quinconces.

Starting point and route
The Place des Quinconces - The Grand Theater - The Saint André / Pey Berland Cathedral - The Big Bell - the Porte Cailhau - The Water Mirror - The Place de la Bourse