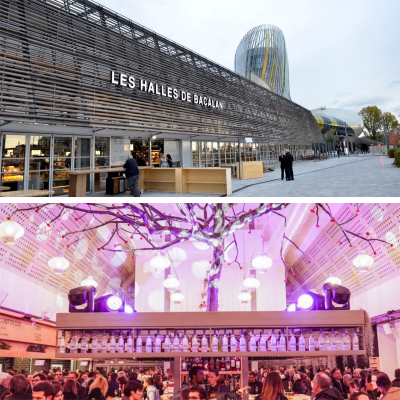 Halles de Bacalan and Bocca Food Court
Delight your taste buds with the gastronomic halls of Bordeaux, located at the two corners of the city, for always convivial moments
Les Halles de Bacalan, artisan producers a stone's throw from your hotel in the center of Bordeaux
Located just opposite the Cité du Vin de Bordeaux, the Halles de Bacalan are one of the friendliest places to buy good local products or taste them on site. On the 950 m2 of the Halles de Bacalan, you will find 23 stalls animated by craftsmen, traders and producers - selected for their know-how and their complementarity and who favor short circuits. 85% of the products offered are of South-West origin. If it is possible to buy these products directly from the merchants, within these Halles which are 10 minutes by tram from the Hôtel de Normandie, you can also taste oysters, tapas and glasses of wine on site.
Les Halles Boca Food Court, catering counters near your 4-star hotel in Bordeaux
In geographical contrast to the Halles de Bacalan, the quays of Paludate are home to the Halles de la Bocca Food Court. A very friendly place that is only 10 minutes by tram from your Hotel de Normandie, in the heart of the historic center of Bordeaux.
The Boca Food Court offers corners of different cuisines. Here, we choose what we eat and we taste these good dishes on large tables in a friendly atmosphere and in a good mood. You can then discover the dishes of 9 independent and local restaurateurs, "chosen for their passion for the profession, the quality of their products and their know-how". Also take advantage of the beer wall (8 dispensers with different references), a real cocktail bar and good wines.