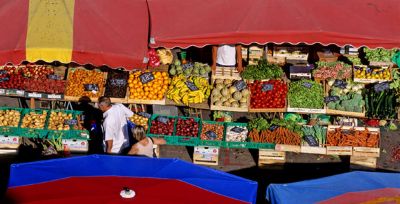 Bordeaux Food Markets
Bordeaux is a city of gastronomy, which likes to highlight its local products. The markets, covered or in the open air, are therefore numerous within the city and its Metropolis. Food products, flowers, clothing, flea markets, crafts, catering, organic products, cart sales ... About thirty markets take place in the various districts of the city.
Your charming hotel in the city center of Bordeaux in the heart of the city's markets
Your hotel in Normandy, overlooking the Place des Quinconces, is in the heart of the city center. Allowing you to easily access all these friendly places. Including these few, the timetables for which you will find here: http://www.bordeaux.fr/p64037/les-marches-de-bordeaux#marches-couvert
Covered Markets :
Le Marché des Capucins: this historic market is a must for lovers of good food. You can find everything there, local products, seasonal but also the world. The 90 traders have a loud voice and an easy smile and the real plus is being able to taste on the spot.
Les Halles de Bacalan: a newcomer, this covered market faces the Cité du Vin. In total, the covered market hosts 23 artisan producers over 950 m2. And you can taste almost everything on site!
The Marché des Grands Hommes: between the alleys of Tourny, the cours Clémenceau and the cours de l'Intendance, this remarkable place for its architecture offers quality food shops in the basement: fresh produce, caterer, butcher, cheese maker, fishmonger and baker as well as two breweries.
Outdoor Markets :
The Quai des Chartrons Market: every Sunday, more than sixty stalls gather along the Garonne to make you buy or taste Bordeaux specialties and other products from around the world.
The Royal Market or Saint Michel: under the large Saint-Michel arrow, the royal market mixes, on Saturdays, food stalls and trucks and non-food vendors.
The Pey Berland Market: on the forecourt of the town hall, at the foot of the magnificent Saint-André Cathedral, this market brings together, on Sunday morning, food and non-food traders.
The Saint Seurin Country Producers' Market: this organic market offers a wide variety of products every Friday morning in the shade of the plane trees: fruits, organic vegetables but also local products and other delicacies ...