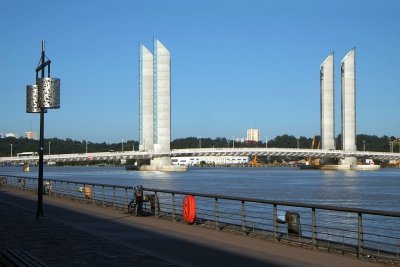 Walk between the two bridges: Bordeaux in 2 hours of hiking
It is an essential walk or run for all Bordeaux residents: the tour of the two bridges (Pont de Pierre and Pont Chaban Delmas) guarantees you a walk full of surprises.
Depart from your hotel in Bordeaux city center for the Two Bridges Walk
The inauguration of the Pont Chaban Delmas in 2013 made it possible to open Bordeaux residents even further to the right bank. Walking between this bridge and the Pont de Pierre then became an activity particularly popular with tourists, hikers, runners, cyclists and families. Very easy, this completely flat 8 km course allows you to see Bordeaux in all its aspects.
And your Normandy hotel in the historic center of Bordeaux is perfectly located between the two bridges: a 16-minute walk from the Pont de Pierre and 30 minutes from the Pont Jacques Chaban Delmas.
2 hours to discover the city from your hotel near the quincunxes in Bordeaux
For this walk, the starting point is therefore located at the Quinconces Tramway station, just in front of your *** hotel in Normandy. Instead, opt for a walk at the beginning or end of the day to better enjoy the panorama. You will therefore take the quays to your right down from the Place des Quinconces and discover the mirror of water before crossing the Pont de Pierre on foot. You will then cross the Garonne to arrive on the right bank and continue on the Quai des Queyries, on your right. The view of the left bank of Bordeaux is exceptional and you can visit emblematic places on the right bank such as the botanical garden or Darwin.
Then, after crossing the Garonne again via the Chaban Delmas bridge, continue your walk on the quays and pass by the cheerful skate park before returning to Place des Quinconces.