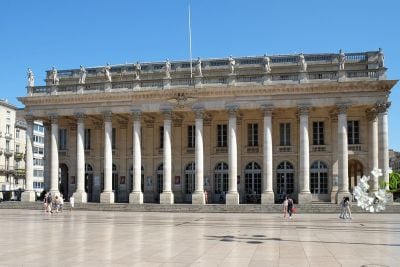 The Grand Theatre / Bordeaux Opera House
The Grand Theatre is home to the National Bordeaux Opera House. This eighteenth century architectural masterpiece was designed by the architect Victor Louis. This historical monument is just as beautiful on the inside as it is on the outside.
International ballets, operas and concerts are regularly on show. Take the opportunity to experience the Bordeaux Opera you will be dazzled by the acoustics and the beauty of the interiors.
The Hotel de Normandie**** is very near the Grand Theatre Opera House, less than a 2 minute walk making it the ideal hotel to stay at if you wish to enjoy a night at the Opera.
The Hotel de Normandie**** is a 2 minute walk from the Grand Theatre
To find out which operas are playing during your stay in Bordeaux consult our agenda page.